Show us the goods! The Gift Suite Oscar Edition, powered by Goodiebag Girl.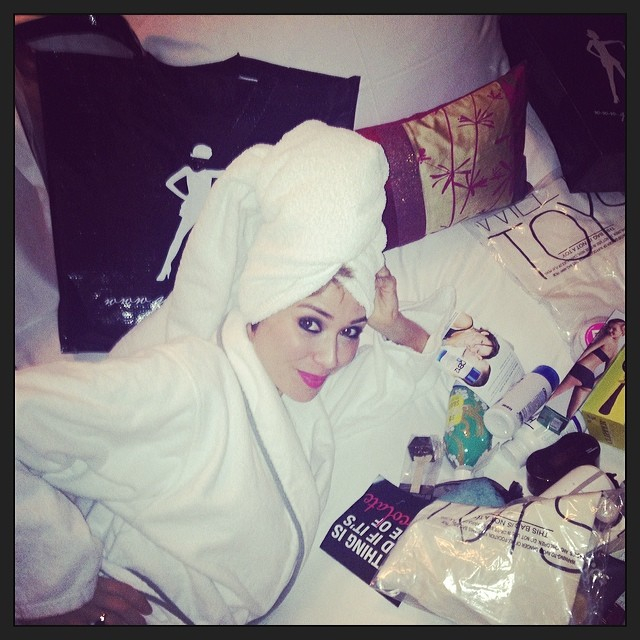 Ever wondered if Dean Saunders is tattooed everywhere? As in, even down there? I can't say it ever crossed my mind, but it did come up last week during The Gift Suite Oscar Edition. Dean even pointed out the lady that could tell us all about his privates, at which point another guest fell of his chair. Literally! Oh the tales I could tell you about that wild and fabulous night at Sofitel Legend The Grand Amsterdam! But I'm not going to; my lips are sealed. Let's just say that the gallons of richly flowing Moët et Chandon made us do it. The contents of the outlandish goodie bag however, I'm very glad to share. Have fun snooping around in it! (scroll down for the grand total $$$)
From top left, clockwise (click on the picture to enlarge):
-Lace and leather ankle boots by So Jamie (€ 199,95)
-Panty bronzing effect nude top by Oroblu (€ 16,95)
-15 Euro discount at The Wax Bar (€ 15,00)
-Hand soap (500 ml, Lemon Verbena) from SOAP Treatment Store with a €5,00 discount on a manicure (€ 16,95)
-A travel set (hand cream, body lotion, shower gel) by AHAVA (about € 35,00)
-A toy car and a free ride to and from The Grand by Peugeot (about €30,00)
-Youth Xtend serum 30 ml by ARTISTRY (about € 75,00)
–L'Oreal Professional Steampod Hair Straightener and Treatment System, including cream and serum (about € 200,00)
–L'Oreal Wild Stylers products: Depolish paste, Next Day Hair powder spray, Scruff Me gel (about € 60,00) 

–Vichy anti-cellulite cream (€ 30,00)
–Moët & Chandon Brut Imperial Piccolo 20 cl (€ 12,99)
-Refill room scent 100 ml Himalayan Spice and scent sticks by BsaB (I LOVE this stuff!) ( €24,90)
-Golden Care Rich Hydrating Day Cream SPF15 by Golden Rose (€ 49,95)
–Clipper lemon & ginger tea (€ 2,39)
-A bottle of Creatine pills (€ 12,50), 90 High Multi pills (€ 27,50) and a plastic water bottle with a rubber mouth piece (€ 3,50) by Vitaminstore
–Rollor Suitroller (anti-crease suite carrier) (€ 179,00)
-White lace bra by Bjorn Borg (€ 22,95)

–Sabon travel kit (shower oil, shampoo, conditioner) (€ 33,02) plus a (€ 5,00) gift voucher
–Marc Inbane natural tanning spray (€ 39,95) and glove (€ 9,95)
-A small bag of Salt 'n Pepper Popchips (potato chips popped like popcorn)
-Voucher for a Sunday brunch buffet at Lavinia Good Food (the snacks and juices they made for the Gift Suite were AMAZING) (€ 22,50)
-Mineral Bronze Powder by Golden Rose  (€ 15,95)
-Hot chili orange chocolate spoon and voucher € 10,00 worth of chocolate at Chocolate Company
–Bach Rescue Remedy cream (€ 11,95) and drops (€ 17,95)
-A voucher for an eyebrow styling session by Roya Zare (€ 34,00)
-A notebook and a one year subscription to Beau Monde Magazine (€ 45,00)
-Limited Edition mini make up roll by Leco for Douglas  (€ 24,95)
-White and gold long-sleeved mini dress by Josh V  (on sale now for € 70,00!) and shirt 'Boys will be Toys' (€ 49,95)
–Bjorn Borg hot pink g-string (fantastic fit!) (€ 13,95)
-Mint green panties with ruffles by Pleasurements (€ 19,00)
-Lipstick palette and trio eye shadow from Sacha Cosmetics, a Haalal-certified make up brand for dark-skinned women. (about € 20,00)
Which makes a total of about € 1458,- (not including the free night we spent in a swanky suite at The Grand). The fun, however, was priceless!