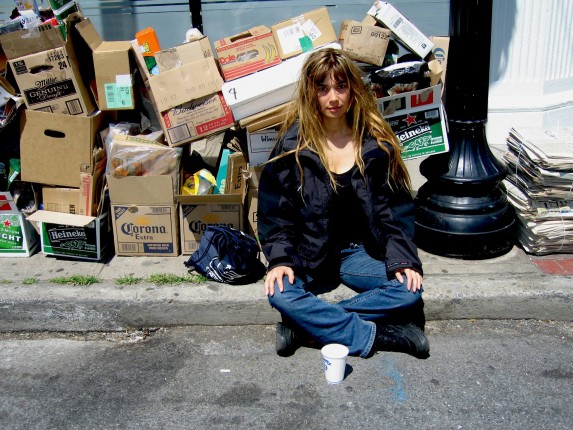 For one long weekend I wandered the streets of a strange American city without shelter, money or phone. I saw the misery and despair I expected, but also experienced freedom, raw intimity and even a tiny crush.

(scroll down for Dutch translation) Four years ago I saw a documentary called 'Home Street Home' in which American Zen master Bernie Glassman and a small group of people spent a week eating, sleeping and begging in the streets of New York. I immediately put 'Zen street retreat' on my list of things-I'll-never-EVER-do, right there with bungee-jumping. I guess it had to do with a primal fear of losing everything and the shame surrounding that. But to be honest, I have also never been particularly fond of homeless people. They don't always smell too good and remind me too much of my own dark side, my faults and weaknesses. I often simply look the other way. During Bernie's 'Street retreat' there is no looking way. Without cash, knowledge or contacts you are completely dependent on the street and its inhabitants. The unpredictability of the situation is your teacher, according to the 67 year old former NASA engineer. The goal? To cultivate compassion: 'Com-passion literally means suffering with,' the Zen master says in his book Bearing Witness. 'The retreats are so overwhelming that you can no longer protect yourself from the suffering that you are confronted with. And from that compassion comes the urge to help.' I have meditated on mountain tops and in isolated monestaries. But can I sit quietly surrounded by needles and empty crack vials? I sign up for a long weekend on the streets.
Day 1, 9:00
'Homeless man (53) dies of stab wounds.' 'Homeless man (24) saved from river after suicide jump from bridge.' Welcome to Springfield, capital of Massachusetts, where homeless people make headlines on an almost daily basis. 'You homeless people are a big, big problem,' says the police officer who chases us from the steps of the city hall. Our group consists of ten 'normal' people who haven't washed nor shaved for a week, as part of the preparations. We are wearing old clothes and are carrying only an empty water bottle and a plastic sheet to sit and sleep on. There's a toothbrush hidden in my small backpack. But it turns out I'm not the only one who smuggled something along; I see three cigars sticking out of Bernie's chest pocket. He hands out maps and the locations of soup kitchens where we will meet a few times a day. He explains what we will do: meditate, wander around aimlessly, make contact with other homeless people and beg. 'For more than 2500 years Buddhist monks have been begging for their meals. They accept everything they receive with grattitude, even rejections and rude comments,' the Zen teacher explains. 'That's how you learn to be grateful for everything life has to offer, both the good and bad things.' I decide to start out collecting cans and bottles for money.
13:00
We have lunch in a soup kitchen; sloppy Joes with ketchup, keylime pie and overly sweet coffee. "There's plenty of food here, Goldilocks," says Joe, a very tall Vietnam vet with a collection of menacing tattoos. Bernie offers him a cigar. The average American homeless person doesn't have an empty stomach. He does, however, seem to have a hungry heart. A boy who's been staring at me all throughout lunch is waiting for me outside. He has dark curly hair, beautiful but sad brown eyes and is wearing spotless khakis and a white shirt. (how can they be spotless? After only a few hours I'm covered in dirt!) With my unwashed hair I don't feel particularly sexy, but Michael from Puerto Rico (24) is lonely. 'Just two months ago I still had three cars. I usually drive big trucks,' he says and I nod. I've already grown used to the fact that here, people's stories about themselves keep changing. The only constants are the tattoos with the names of (ex-)lovers, parents and children. 'Where are you off to now?' Michael asks when I start to walk away. I would love to say: 'Home, for a nap.' After only half a day on the streets, I could really use some quiet space for myself.
17:00
'Here Sweety, for you. I've already made 20 dollars today.' A young, wired man with tattoos in his neck hands me a plastic bag filled with empty cans and walks into the church for dinner. Amongst the junkies, alcoholics and psychiatric patients are entire families lining up. Michael is upset. He begs me not to spend the night at the park. 'Someone got killed there last night!' I have to admit that I'm pretty scared myself, but we don't want to claim too many precious shelter beds.
22:00
I'm laying on my plastic sheet in the park, in the pitch black darkness, together with one half of our group. (the other half changed their minds and decided to sleep in the shelter) I feel giddy, not so much because of my nerves, but because I feel strangely relieved. Here, in this dangerous spot, with people I've only met today, I surrender to the circumstances. And that is more liberating than I ever could have imagined.
2:00 
It's pouring, and we've seeked shelter under a bridge. My throat hurts. I wonder what it's like to be sick on the streets.
Day 2, 7:00
The lack of sleep makes me feel extra vulnerable. When I walk out of the soup kitchen after breakfast, a broad shouldered guy blocks my way. 'I heard you slept in the park last night. I can arrange something for you, if you know what I mean." I quickly turn around. I have seen quite a bit of sex on the streets (I estimate that about half of the women sell their bodies every now and then), but not a lot of tenderness. I could actually use a hug myself. Joe, the Vietnam vet, has looked me up to bring some cigars for Bernie. He takes one look at me and puts his arms around me.
10:00
At a hip coffee spot I feel like Andersen's 'girl with the matches' when I watch my 'old' life through the window. This is where I usually hang out with my laptop or my friends. I take a deep breath and walk in with an empty cup. The man behind the counter raises his eyebrows when he sees me, and then proceeds to ignore me for almost ten minutes. I'm starting to sweat and am about to walk away when he grabs my cup and fills it with coffee. 'I don't usually do this,' he says, sternly. After that, begging becomes easier.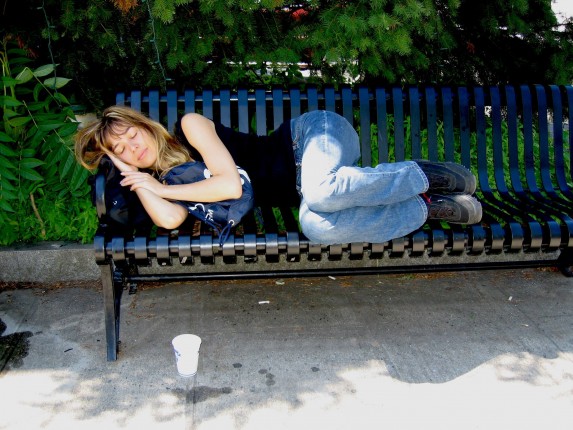 14:00
After lunch I'm trying to have a quick nap on a bench by the river. I feel someone is watching me. Michael has found me. He starts to tell me about his 19-year old girlfriend who is pregnant with their first child and who lives in a women's shelter, about his mother who wanders the streets and his brother who is addicted to crack. He points at a tall bridge. 'Two weeks ago I jumped off that bridge. It made the papers.' I believe him this time.
19:00
While I'm brushing my teeth in the restrooms of a hip bar, a group of girls walk in, all dressed up for a night out. I smile at them, but they look away, with a mix of shame and pity. 'I'm not a bum, I'm one of you!' I want to yell. In the mirror I see tears in my eyes. And I realise that it's not so much me who is sad, but the person they think I am.
23:00
We sleep on cots in the gymnastics hall of a former jail. (we've been assured there is plenty of room). At eleven o' clock the doors are locked. Every now and then someone screams. Nobody seems to notice, they are used to it. But also: when you lie together so closely, you have no choice but to accept each other.
Day 3, 5:00 
The 'bagladies' are the first ones in the shower. Hmm, another prejudice out the window. Kate, who was lying next to me, wet her bed several times during the night. She has open sores on her arms and legs. A few days ago I would not have been able to overcome my aversion. Today however, I help her put on her socks and sneakers. She suffers from diabetes and has no health insurance. Her fingers are too swollen to dress herself. When she asks me why I'm here, I tell her: 'To learn." She wants to know what I've learned. 'That living on the streets can be very hard,' I tell her, and at that moment she starts to shake and cry. Something inside me breaks. Is this compassion?
10:00
During a service at the Baptist Church, Michael gets thrown out for talking to much with me. I know I'll never see him again. I feel guilty and helpless. I know I will miss him. 'What are you guys?' a tall black guy asks me afterwards. 'Street tourists?' I start to laugh. 'That's exactly what we are!' I say.
Since I left the streets, I have donated money. I have sent long letters to Michael and other street friends through Social Services. I know I cannot help them all. But when I see them in the streets, I recognize them, because I've been a tourist in their 'country'. And I will never again look the other way.
For more information: Zen Street Retreats
(originally published in De Telegraaf, pictures by Venus Veldhoen)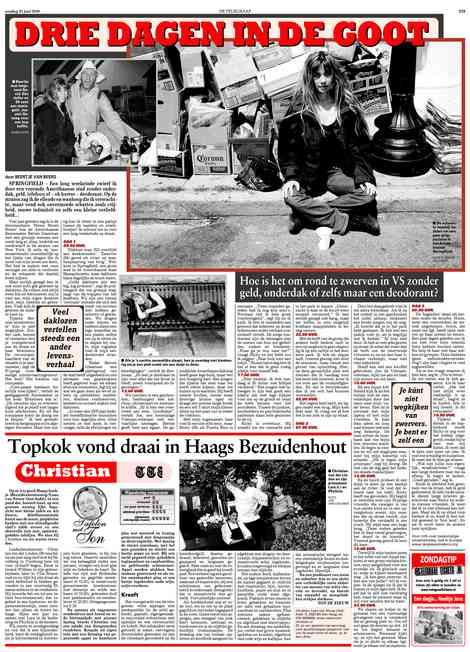 Drie dagen in de goot
Een weekend lang zwierf ik door een vreemde Amerikaanse stad zonder onderdak, geld, telefoon of –oh horror!- deodorant. Op de straten zag ik de ellende en wanhoop die ik verwachtte, maar vond ook onverwachte schatten zoals vrijheid, rauwe intimiteit en zelfs een kleine verliefdheid…..
Vier jaar geleden zag ik in de documentaire 'Home Street Home' hoe de Amerikaanse zenmeester Bernie Glassman met een groepje mensen een week lang at, sliep, bedelde en rondzwierf in de straten van New York. Ik zette de 'Zen Straat Retraite' onmiddellijk op het lijstje van dingen die ik nooit van mijn leven zou doen, pal onder 'Bungee-jumping'. Het had te maken met een oerangst om alles te verliezen en de schaamte die daarbij komt kijken. Maar eerlijk gezegd ben ik ook nooit echt gek geweest op daklozen. Ze ruiken niet altijd even fris en herinneren mij te veel aan mijn eigen donkere kant, mijn zwaktes en gebreken. Vaak kijk ik gewoon de andere kant op.
Tijdens Bernie's 'Straat Retraite' kan je niet wegkijken. Zonder cash, kennis of contacten ben je overgeleverd aan de straat en haar bewoners. De onvoorspelbaarheid van de situatie is je leermeester, zegt de 67-jarige voormalige ruimtevaart-ingenieur. Het doel? Het kweken van compassie: "Com-passie betekent letterlijk mee-lijden." vertelt de ge-engageerde Zenmeester in het boek 'Erkennen wat is'. "De retraites zijn zo overweldigend dat je jezelf niet langer kan afschermen van het lijden waarmee je wordt geconfronteerd. En uit die compassie komt de drang om te helpen." Ik heb gemediteerd op bergtoppen en in afgelegen kloosters. Maar hoe rustig kan ik zitten in een parkje tussen de naalden en crackbuisjes? Ik schrijf me in voor een lang weekend op straat.
Dag 1
9.00- 'Dakloze man (53) overlijdt op straat aan steekwonden.' 'Dakloze man (24) gered uit rivier na wanhoops-sprong van brug." Welkom in Springfield, hoofdstad van de Amerikaanse staat Massachutes, waar daklozen bijna dagelijks de koppen halen. "Jullie daklozen zijn een 'big, big problem'.", zegt de politie-agent die ons groepje wegjaagt van de trappen van het stadhuis.
Wij zijn een tiental 'normale' mensen die zich een week niet hebben geschoren of gewassen. We dragen oude kleren en hebben verder alleen een lege waterfles bij ons en een plastic zeiltje om op te zitten en te slapen. In mijn rugzakje voel ik mijn tandenborstel branden. Ik ben gelukkig niet de enige die iets heeft meegesmokkeld: uit Bernie Glassman's borstzak steken drie sigaren. Hij deelt plattegronden uit en adressen van gaarkeukens waar we elkaar een paar keer per dag zullen treffen. Hij legt uit wat we gaan doen: mediteren, doelloos rondzwerven, contact maken met daklozen en bedelen. "Al meer dan 2500 jaar bedelen Bhoeddistische monniken voor hun dagelijkse eten. Alles nemen ze met dank in ontvangst, zelfs de afwijzingen en beledigingen." , vertelt de zenleraar. "Zo leer je dankbaar te zijn voor alles wat het leven je biedt, zowel de voor-als tegenslagen." Ik besluit voorlopig blikjes en flessen te verzamelen voor statiegeld.
13.00- We lunchen in een gaarkeuken; 'sloppy joe's' met ketchup, 'keylime pie' en mierzoete koffie. "Er is hier een overvloed aan eten, Goudlokje." , vertelt Joe, een boomlange Vietnamveteraan met vervaarlijke tatoeages. Bernie geeft hem een sigaar. De gemiddelde Amerikaans dakloze heeft geen lege buik. Hij blijkt echter wel een hongerige hart te hebben. Een jongen die tijdens het eten naar me heeft zitten kijken staat me buiten op te wachten. Hij heeft zwarte krullen, mooie maar droevige bruine ogen en draagt schone khaki's en een wit t-shirt (mijn kleren zitten na een paar uur al onder de vlekken). Met mijn ongewassen haar voel ik me niet echt sexy, maar Michael uit Puerto Rico (24) is eenzaam. "Twee maanden geleden had ik nog 3 auto's. Normaal rij ik hele grote vrachtwagens." zegt hij en ik knik. Ik ben er inmiddels aan gewend dat iedereen op straat telkens een ander verhaal vertelt over zichzelf. De enige constanten zijn de tatoeages met de namen van hun (ex-)geliefdes, ouders en kinderen. "Waar ga je nou naar toe?" vraagt Michael, en het liefst zou ik zeggen: "Naar huis voor een tukje." Na een halve dag ben ik het al beu dat ik geen rustig plekje heb voor mezelf.
17.00- "Hier Sweety, ik heb zelf al 20 dollar verdiend vandaag met blikjes." Een jongen met tatoeages in zijn nek gooit een plastic zak met lege blikjes voor me op de grond en loopt de kerk binnen voor 't avondeten. Tussen de junkies, alcoholisten en psychiatrische patienten staan hele gezinnen in de rij. Michael is overstuur. Hij smeekt me om vanacht niet in het park te slapen: "Gisternacht is daar in de buurt weer iemand vermoord." Ik ben eerlijk gezegd ook bang, maar we willen zo min mogelijk kostbare slaapplekken in beslag nemen.
22.00- Met de helft van de groep (de andere helft besloot toch in een shelter te gaan slapen) lig ik op een zeiltje in het donkere park. Ik heb de slappe lach, vreemd genoeg niet door de zenuwen, maar vanuit een gevoel van opluchting. Hier, op deze gevaarlijk plek met mensen die ik vandaag voor het eerst heb onmoet, lever ik me over aan de omstandigheden. En dat is bevrijdender dan ik me ooit had kunnen voorstellen.
2.00 's ochtends- Het regent heel hard, we liggen onder een brug. Mijn keel doet zeer. Ik vraag me af hoe het is om ziek te zijn op straat.
Dag 2
7.00- Door het slaapgebrek voel ik me extra kwetsbaar. Als ik na het ontbijt in een gaarkeuken de toilet uitloop blokkeert een brede jongen mij de weg. "Ik hoorde dat je in het park hebt geslapen. Ik heb wel een plekje voor je, als je begrijpt wat ik bedoel." Ik loop snel door. Ik heb al veel sex gezien op straat (ik schat dat meer dan de helft van de vrouwen zo nu en dan haar lichaam verkoopt), maar niet veel tederheid. Ik zelf kan wel een knuffel gebruiken. Joe, de Vietnam veteraan komt mij cigaartjes brengen om aan Bernie te geven. Hij kijkt me aan en slaat zijn armen om me heen.
10.00- Bij een hippe koffietent kijk ik als het meisje met de zwavelstokjes door het raam naar mijn 'oude' leven. Hier zit ik normaal aan een koffie verkeerd met mijn laptop of mijn vrienden. Ik haal diep adem en loop naar binnen met een leeg bekertje. De man achter de toonbank trekt zijn wenkbrauwen op en laat me bijna tien minuten wachten. Ik begin te zweten en wil net weglopen als hij mijn bekertje volschenkt. 'Dit is tegen mijn principes', zegt hij streng. De rest van de dag gaat het bedelen steeds makkelijker.
14.00- Na de lunch probeer ik een tukje te doen op een bankje aan de rivier. Ik voel dat iemand naar me kijkt. Michael heeft me gevonden. Hij begint te vertellen over zijn 19-jarige vriendin die zwanger is van hun eerste kindje en in een opvangtehuis woont, zijn moeder die op straat zwerft, zijn broertje die verslaafd is aan crack. Hij wijst naar een hoge brug. "Twee weken geleden ben ik daar vanaf gesprongen, het stond in de kranten." Vreemd genoeg geloof ik hem dit keer.
19.00- Terwijl ik mijn tanden poets in de toilet van een hippe bar komt er een groep meisjes binnen, sexy aangekleed voor een avondje uit. Ik glimlach naar ze, maar ze kijken weg met schaamte op hun gezichten. "Ik ben geen zwerver, ik ben één van jullie!" wil ik roepen. In de spiegel zie ik dat ik tranen in mijn ogen heb. Ik besef dat ik zelf niet verdrietig ben, maar de persoon waar zij mij voor aanzien des te meer.
23.00- We slapen op kotjes in de gymzaal van een voormalige gevangenis (er is ons verzekerd dat er genoeg plek is). Om elf uur gaan de deuren op slot. Zo nu en dan begint iemand te schreeuwen. Niemand kijkt op, ze zijn het gewend. Maar ook: als je zo dicht op elkaar ligt, moet je elkaar wel accepteren.
Dag 3
5.00- De 'bagladies' staan als eersten onder de douche. Mmm, weer een vooroordeel de wereld uitgeholpen. Kate die naast me ligt heeft 's nachts meerder malen in bed geplast. Ze heeft open zweren op armen en benen. Een paar dagen geleden zou ik me niet over mijn weerzin heen hebben kunnen zetten. Nu help ik haar met haar sokken en gympen. Door diabetes (geen ziektekostenverzekering!) zijn haar vingers te veel opgezwollen. Als ze me vraagt waarom ik hier ben, zeg ik: "Om te leren." Ze wil weten wat ik geleerd heb. Als ik haar vertel: "Dat het niet altijd even makkelijk is op straat," begint ze te huilen met schokkende schouders. Iets in mij breekt. Is dit compassie?
10.00- Tijdens de dienst in de Baptistische kerk wordt Michael er nog voor het ontbijt uitgegooid, omdat hij te veel met mij kletst. Ik weet dat ik hem niet meer zal zien. Ik voel me schuldig en hulpeloos. Ik weet dat ik hem ga missen. "Wat zijn jullie nou eigenlijk?" vraagt een lange donkere man me na afloop. "Straattoeristen?" Ik begin te lachen. "Goed geraden!", zeg ik.
Sinds ik afscheid heb genomen van de straat, heb ik geld gedoneerd. Ik heb via de sociale dienst lange brieven geschreven naar Michael en andere nieuwe straatvrienden. Ik weet dat ze niet allemaal kan helpen. Maar als ik op straat loop herken ik ze, want ik ben tourist geweest in 'hun land'. En zal ik nooit meer de andere kant opkijken.
Voor info over toekomstige street-retreats: www.zenpeacemakers.org
Gepubliceerd in De Telegraaf, 2006. Foto's: Venus Veldhoen