Outfit post – Autumn proof hotpants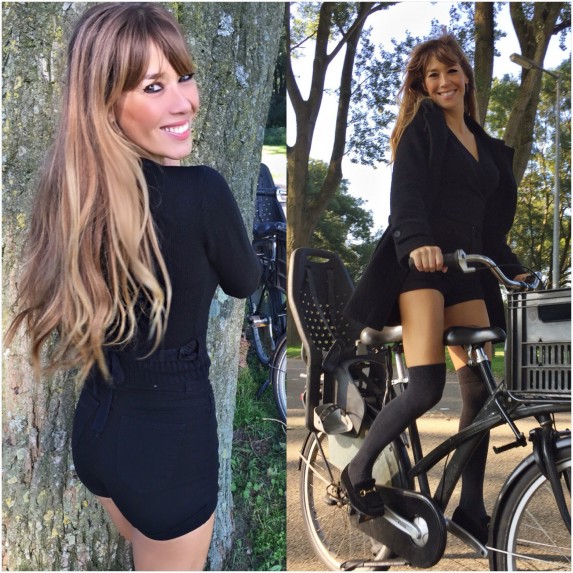 Hotpants, tiny mini-dresses and little A-line skirts are my fashion staples; I don't care if people say I'm too old (I'm 43), or that it's too cold. If anything, how bad-ass to be able to defy both your age ánd the weather with one outfit! I might not go as far as French style/sex guru Caroline de Maigret who urges us to 'always be fuckable', even when 'standing in line at the bakery on a Sunday morning,' but I do want to say this:
Celebrate your femininity, every day. Life is short, just wear the shorts! 
Maybe I was born into it. When my mother was pregnant with me, parading around in her micro-mini skirts, people would warn her: 'Your child will be born with pneumonia!' (scroll down for a picture of my hot mama in the early Seventies) Well, I didn't, but I did inherit her love for anything scandalously short. 
At my wedding, my father gave a wonderful speech that he compared to a miniskirt: 'Long enough to cover the subject, short enough to remain interesting.' With that, he also totally summarized my lifelong style-motto.
Take this outfit. To me, it's perfectly balanced. I started with highwaisted shorts from American Apparel that I wore all summer, then added warm socks, a ballet wrap vest and a cozy toggle coat from Uniqlo to a pair of hotpants. Soon, when it gets colder, I'll have to wear tights underneath the socks, but for now, I like to keep things interesting by exposing my favorite part of a woman's body: those creamy upper thighs. Have a sensual Autumn!