Here comes the bride… again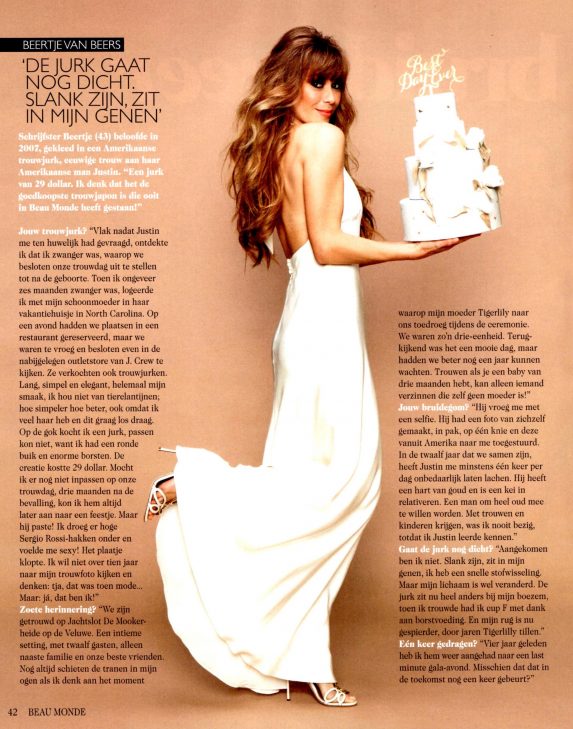 About my cheap-ass wedding dress (you'll never guess how much), how Justin proposed, and why I said 'YES!'. In this month's Beau Monde.
(scroll down for Dutch text)
Your wedding dress? "Right after Justin proposed, we discovered I was pregnant, so we decided to postpone the wedding day till after the birth. When I was 6 months pregnant, I visited my mother in law in North Carolina, she used to have a holiday home there. One night we made reservations for a restaurant, but since we were early, we decided to go shopping in the J. Crew outlet next door. They sold some wedding gowns. Long, simple and elegant, very much my taste. I don't like a lot of frou-frou and prefer to keep it simple, especially since I have so much hair and like to wear it down. I took a risk and bought a dress, I had to guess the size, because I already had a huge belly and boobs. We paid 29 dollars. I figured that if the dress didn't fit on our wedding day, 3 months after the birth, I could still wear it to a party one day. But it fit! I wore a pair of superhigh Sergio Rossi heels with it and felt sexy! I just all came together. I don't want to look back at my wedding in 10 years time and think 'okay, that was fashion back then', but 'yes, that's me!'.
Sweet memory? "We got married in Jachtslot De Mookerheide on the Veluwe. A very intimate setting, with 12 guests, only close family and our best friends. I still get teary-eyed thinking about the moment my mother carried Tigerlily towards us during the ceremony. We were such a beautiful trinity. In hindsight it was a gorgeous day, but it would've been better if we had waited another year. Getting married with a 3-month old baby, is something only someone who isn't a mother yet could come up with!"
My groom? "He proposed with a selfie. He had taken a picture of himself, in a suit, on one knee, and sent it to me from America. During our 12 years together, Justin has made me laugh uncontrollably at least once a day, every day. He has a heart of gold and is great at putting things into perspective. A man to grow very old with. Getting married and becoming a mother was never really on my agenda till I met Justin."
Does the dress still fit? "I didn't gain any weight, staying slim is in my genes, I have a fast metabolism. My body did change however. The dress looks very different around my chest- on my wedding day I had an F cup because I was still nursing. And my back is much more toned now, after years of carrying Tigerlily around."
Wore it only once? "I keep the dress in my wardrobe, I like to have it around, not hide it in storage. Four years ago I wore it to a last-minute gala. Perhaps I'll do it again some day?"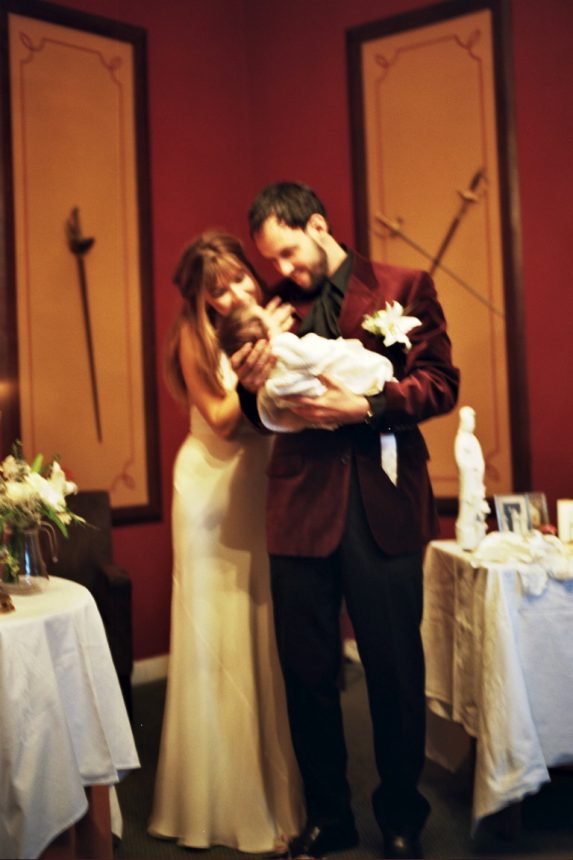 Beertje (43) beloofde in 2007, gekleed in een Amerikaanse jurk, eeuwige trouw aan haar Amerikaanse man Justin. "Ik denk dat het de goedkoopste trouwjapon is die ooit in Beau Monde heeft gestaan!"
Jouw trouwjurk? "Vlak nadat Justin me ten huwelijk had gevraagd, ontdekte ik dat ik een baby verwachtte, waarop we besloten onze trouwdag uit te stellen tot na de geboorte. Toen ik zes maanden zwanger was, was ik met mijn schoonmoeder in North Carolina, zij heeft daar een vakantiehuisje. Op een avond hadden we in een restaurant gereserveerd, maar we waren te vroeg en besloten in de nabijgelegen outletstore van J. Crew te kijken. Ze verkochten ook trouwjurken. Lang, simpel en elegant, helemaal mijn smaak, ik houd niet van tuttige tierelantijnen; hoe simpeler hoe beter, ook omdat ik veel haar heb en dit graag los draag. Op de gok kocht ik een jurk, passen kon niet, want ik had een ronde buik en enorme borsten. De creatie kostte 29 dollar. Mocht ik er nog niet inpassen op onze trouwdag, drie maanden na de bevalling, kon ik hem nog altijd later aan naar een feestje. Maar hij paste! Ik droeg er hoge Sergio Rossi hakken onder en voelde me sexy! Het plaatje klopte. Ik wil niet over tien jaar naar mijn trouwfoto kijken en denken 'ja, dat was toen mode' maar 'echt wel, dat ben ik'.
Zoete herinnering? "We zijn getrouwd op Jachtslot De Mookerheide op de Veluwe. Een intieme setting, met twaalf gasten, alleen naaste familie en onze allerbeste vrienden. Nog altijd schieten de tranen in mijn ogen als ik denk aan het moment waarop mijn moeder Tigerlily naar ons toedroeg tijdens de ceremonie. We waren zo'n drie-eenheid. Terugkijkend was het een mooie dag, maar hadden we beter nog een jaar kunnen wachten. Trouwen als je een baby van drie maanden hebt, kan alleen iemand verzinnen die zelf geen moeder is!"
Jouw bruidegom? "Hij vroeg me met een selfie. Hij had een foto van zichzelf gemaakt, in pak, op één knie en deze vanuit Amerika naar me toegestuurd. In de twaalf jaar dat we samen zijn, heeft Justin me minstens één keer per dag onbedaarlijk laten lachen. Hij heeft een hart van goud en is een kei in relativeren. Een man om heel oud mee te willen worden. Met trouwen en kinderen krijgen was ik nooit bezig, totdat ik Justin leerde kennen." Gaat de jurk nog dicht? "Aangekomen ben ik niet, slank-zijn zit in mijn genen, ik heb een heel snelle stofwisseling. Maar mijn lichaam is wel degelijk veranderd. De jurk zit heel anders bij mijn boezem – toen ik trouwde had ik cup F met dank aan borstvoeding. En mijn rug is gespierder, door jarenlang Tigerlilly tillen."
Eén keer gedragen? "Hij hangt in mijn kledingkast, ik wil mijn trouwjurk in de buurt hebben, niet in een opslagruimte of in een doos op zolder. Vier jaar geleden heb ik hem een keer aangehad toen ik last minute naar een gala-avond moest. Misschien dat dat in de toekomst nog een keer gebeurt?"